Affordability, Conservation, and Stewardship
Indwell emphasizes energy efficiency in all of its buildings. In 2018, we began building to the Passive House standard, a voluntary international certification that reduces a building's ecological footprint.
Passive House (German: Passivhaus) is a standard for energy efficiency that reduces a building's ecological footprint. It is considered to be the most rigorous voluntary energy-based standard in the design and construction industry today.
By implementing passive house standards, Indwell is able to significantly curtail greenhouse gas emissions while drastically reducing utility costs. This cost-savings is passed down to tenants, and is a significant factor in keeping our rent so affordable.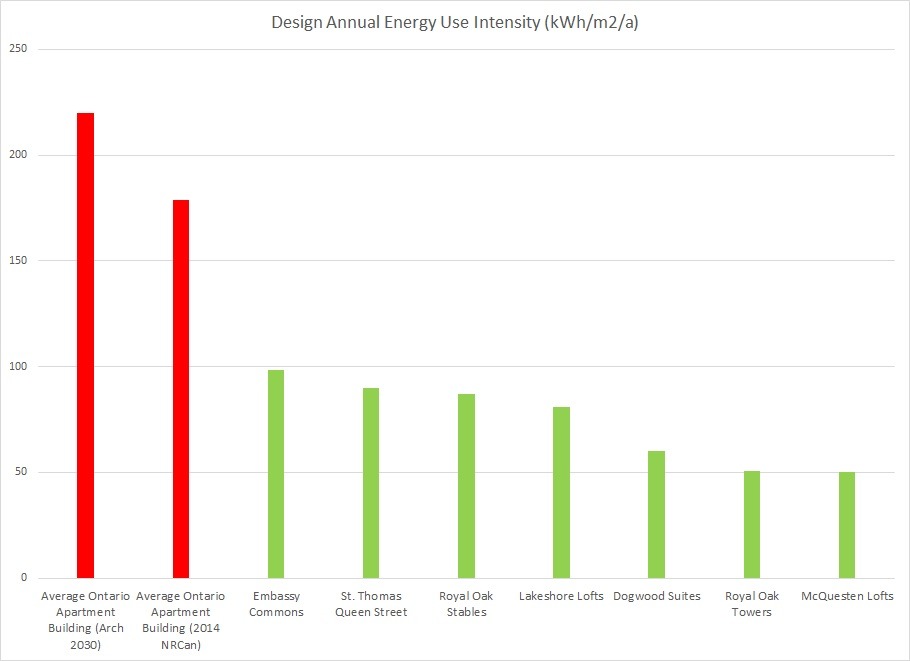 Our passive house projects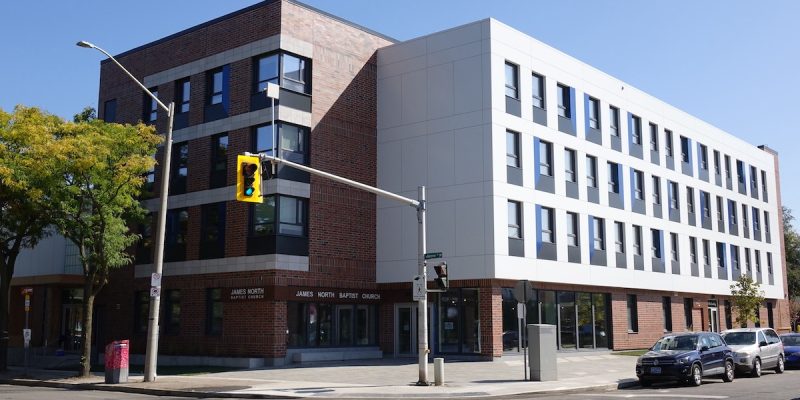 North End Landing (Hamilton, ON)
This redevelopment in the North End of Hamilton was planned as a mixed-use church and housing development. This project is a partnership between a long-time North Hamilton organization, Hughson St. Baptist Church, and local non-profit housing provider Indwell to redevelop a under-utilized urban site at 500 James St. N. The building will include a contemporary church with a focus on sports ministries and affordable housing with supports. The entire development is targeted for Passive House certification.
The four-storey building consists of 45 one and two-bedroom apartments, tenant common room, bike storage and other amenity spaces. The ground floor and basement include church spaces such as a gymnatorium to seat 500 people, a large glazed atrium and foyer spaces, a chapel, hospitality spaces and a community kitchen, offices, and classrooms for youth programs from nursery through high school. The lower level includes Sunday school spaces and other meeting rooms for 300 people.
Passive House design elements include a tight massing, R-55 roof, R35 walls, and R43 underslab (all effective R). Over-insulation around the windows, careful detailing at the sunshades and windows, and high performance HRV with VRF heating & cooling. Cladding is a panel system with aluminum composite panels and thinbrick on fiberglass clips. The building envelope has been detailed to minimize thermal bridging as much as possible.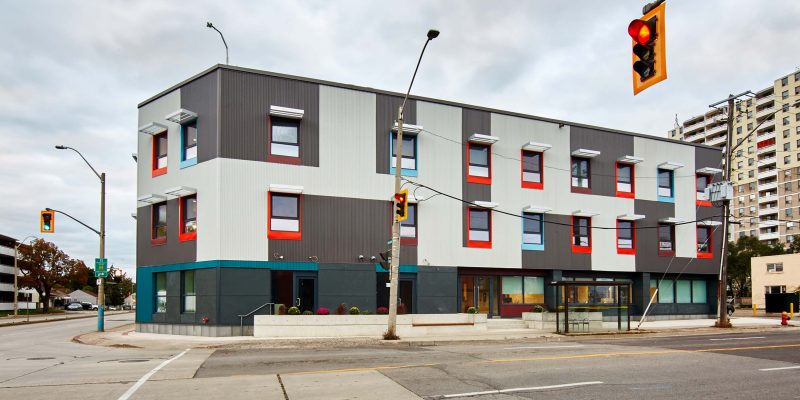 Parkdale Landing (Hamilton, ON)
This project includes the gutting, recladding and partial reconstruction to a group of buildings at the corner of Melvin & Parkdale in East Hamilton (formerly the George & Mary's tavern & banquet centre). The existing buildings date from the 1880s, 1960s, and 1970s and included a banquet hall, tavern, and rooming house. Indwell purchased the building, which had undergone little maintenance in recent years, and intends to completely transform the building into 57 studio apartments, eight of which are barrier free. The ground floor includes a restaurant space and two retail storefronts, along with offices for Indwell staff.
Passive House elements include R55 roof, R35 walls, and R43 underslab insulation (all R effective), sun shades, Klearwall Passive House windows and glazing, and an attention to thermal bridge detailing. Windows are supported outside the wall structure with locally-made fiberglass angles, and the fibre cement and prefinished metal siding is secured with fiberglass clips. Insulation is Insulthane Extreme polyurethane spray foam with a global warming potential of one. The continuous air barrier is provided by Henry Blueskin SA, and the building achieved a final airtightness of 0.3ACH @50Pa. The apartments are heated and cooled by a high-performance HRV by Engineered Air with backup electric heaters. The majority of the new building materials are Canadian made. Many tenants have commented on the incredible comfort and security of their apartments. Indwell aim to build on these passive house qualities with other tenant supports like daily meals and programming with the goal of having lives transformed by hope.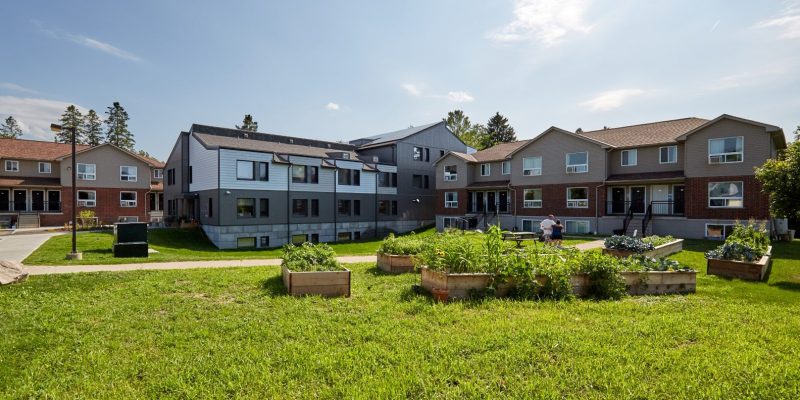 Blossom Park Apartments (Woodstock, ON)
This project includes the redevelopment of a group home run by Indwell into 34 supportive apartments and a community hub that will be shared with other nearby tenants. The average unit size is 34m2 and includes a washroom, kitchenette, bedroom, and living space. Common spaces include a large community kitchen, laundry room, lounge, dining area, storage space, and offices for Indwell staff. The project was tendered at a construction cost competitive with other non-PH projects at $195/ft2.
The development is currently under construction with Trigon Construction Management. The main construction of the exterior walls, windows, and airtightness layer is being built off-site in Kansas as a prefab BuildSMART system.
The walls are designed to be an impressive R55 effective. Triple-glazed PH-certified indows included with the BuildSMART system are by Klearwall. The remainder of the structure is wood studs, TJIs, and trusses.
A unique catwalk in the unconditioned attic provides access to the four Swegon Gold ERV units manufactured in Mississauga. Heating & Cooling is provided by Mitsubishi VRF units in each apartment along with solar and latent gains.
Passive House Consulting was provided by Zon Engineering, Mechanical & Electrical design by CK Engineering, and Structural by Kalos Engineering. This is the third multi-unit residential building designed by Invizij Architects for Indwell, a Hamilton non-profit who have committed to the PH standard.
Oxford County has been a key partner in this project, as Blossom Park is helping direct future development for the County which aims to be net zero by 2050.
This Indwell project received funding from the National Housing Strategy under the NHS Demonstrations Initiative; however, the views expressed are the personal views of Indwell and CMHC accepts no responsibility for them. The Demonstrations Initiative highlights innovative solutions aiming to improve the performance, viability and effectiveness of affordable housing.
Passive house construction