This First Nation's dish (often attributed to the Iroquois), combines the "Three Sisters": corn, beans, and squash; which are traditionally grown together in a combined gardening method.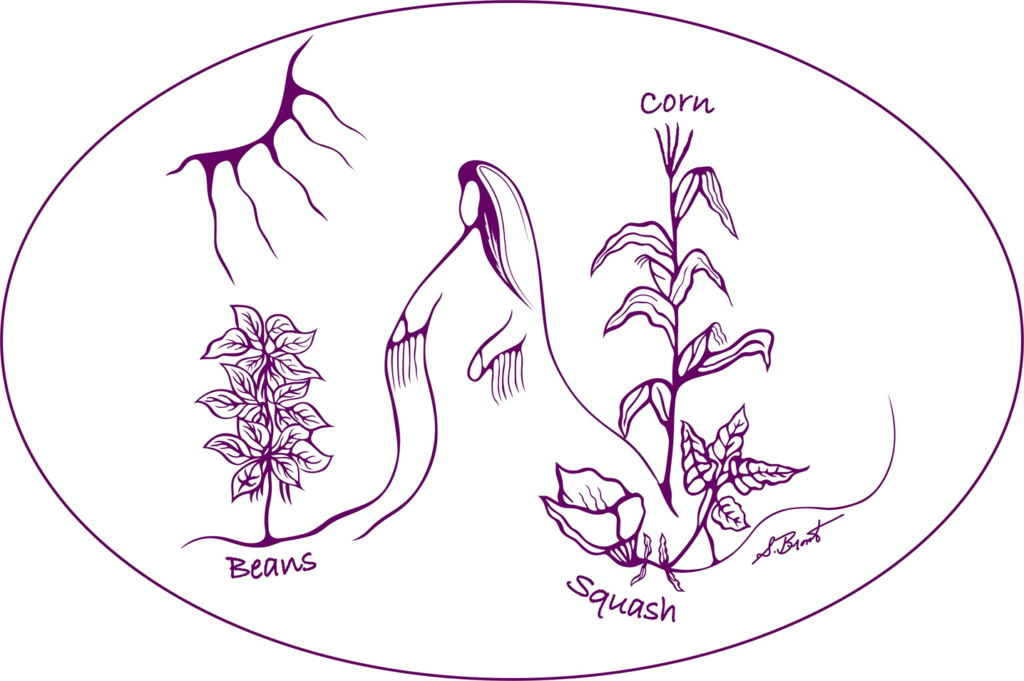 2 c lyed corn
2 c fresh green beans (trimmed and snapped)
2 c peeled and cubed butternut squash
1 1/2 c diced peeled potatoes
5c water
1 1/2 tbsp chicken bouillon granules (or cube)
2 tbsp butter, melted
2 tbsp all purpose flour
1/4 tsp pepper
Place corn, green beans, squash and potatoes into a pot.
Pour in water and chicken bouillon.
Bring to boil, then reduce heat to low and simmer until vegetables are soft, about 10 minutes.
Blend flour into the butter, then stir into the soup.
Increase heat to medium, and cook for 5 more minutes, or until soup thickens.
Season to taste with salt and pepper, serve and enjoy!
The Three Sisters are represented by corn, beans and squash1Murphy, A. 2018. Native Voices: Meet the Three Sisters Who Sustain
Native America. PBS. Accessed June 2, 2022 at
https://www.pbs.org/native-america/blogs/native-voices/meet-thethree-sisters-who-sustain-native-america/
Planted in such a way that the corn stalk acts as support for the vine of the beans to climb. The beans support good fertilization for the corn and squash. Squash have spiny features that also protect the plants from predators.2Murphy, A. 2018. Native Voices: Meet the Three Sisters Who Sustain
Native America. PBS. Accessed June 2, 2022 at
https://www.pbs.org/native-america/blogs/native-voices/meet-thethree-sisters-who-sustain-native-america/
These vegetables are used in many traditional dishes3Murphy, A. 2018. Native Voices: Meet the Three Sisters Who Sustain
Native America. PBS. Accessed June 2, 2022 at
https://www.pbs.org/native-america/blogs/native-voices/meet-thethree-sisters-who-sustain-native-america/
Are you interested in learning why North America was
originally named "Turtle Island?" 
Learn more here