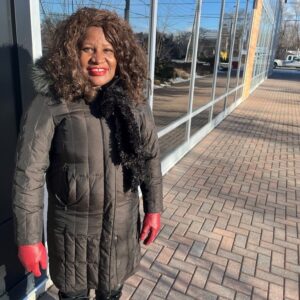 Evadney (Eva), Tenant
Lakeshore Lofts, Mississauga
I became part of the Indwell community because an affordable unit became available, and I'm on a fixed income. The support offered by staff provides the stability I needed as I transferred from a basement unit in the Durham area.
Whenever I tell others about Indwell, I boast about the newly designed building, its location on Lakeshore [Road], a bus stop at the door, GO transit accessibility, highways nearby and the amenities located in the area which are all within walking distance to the building. There are a mixture of people occupying the building, and it's quiet, which I enjoy.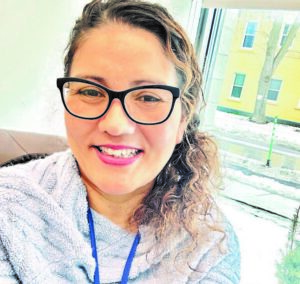 Maria Yaguas, Housing Support
Embassy Commons, London
I worked at a shelter for nearly 10 years, but a shelter will never be a home. As I see people who've been homeless for years move into their own apartments, it's moving to see their joy; something so precious has come to them.

Indwell is the best place to work and live. My mother in-law told me she noticed a glow about me when I talk about Indwell.
When I ran coffee hour last week, we played bingo, and it was so fun to see people laughing and happy and belonging to a community that really cares.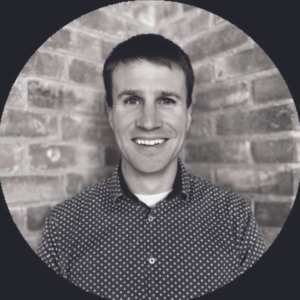 Steve Dozeman, Pastor
Talbot Street Church, London
We serve a diverse population as a downtown church and are very aware of the lack of affordable housing. Homelessness causes so much human suffering, and we are excited to be part of a solution.
I personally know numerous tenants who have been given a fresh shot at life by living at Indwell. It's a Christian worldview that deeply shapes the way staff view and serve people, and this is part of what makes them so good at what they do!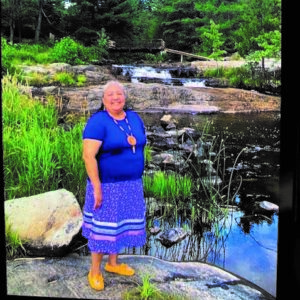 Demi'in Kwe, Shkaabewis
Hamilton Regional Indian Centre, Hamilton
Demi'in Kwe of the Hamilton Regional Indian Center comes to McQuesten Lofts (home to many Indigenous people) as a Shkaabewis (traditional Anishinaabe helper) on a regular basis to share Anishinaabe teachings, Full Moon ceremonies, Changing World ceremonies, and activities out of the healing garden and the common room. In her words,
"I am from the Bear Clan of the Anishinaabe Nation, in particular the Three Fire Confederacy of the Potawatomi, Ojibwe, and Odwa. I have blood connections to the families of the following First Nations: Nipissing First Nation (Garden Village), Wikwemikong Unceded First Nation, Neesawjiiwiin, located on the northern part of Sagamok Anishinaabek First Nation, and Anishinaabek in the Land of the Big Knives (USA). These claims are recognized as belonging to 1790 101601 as per the Indian Act. I am the daughter, granddaughter, great-granddaughter, cousin, and niece of Residential School Survivors.
I became involved with Indwell because I was offered semma (tobacco) to share some Anishinaabe teachings and conduct Ceremonies for both First Nations, descendants of the original immigrants to Turtle Island, and Indwell community members who were interested in learning and socializing. I am always grateful for how welcoming Josh and the Indwell tenants are to me and fellow Shkawaawis (drummers and singers) and enjoy having sacred shkode (fire) in the beautiful fire pit."