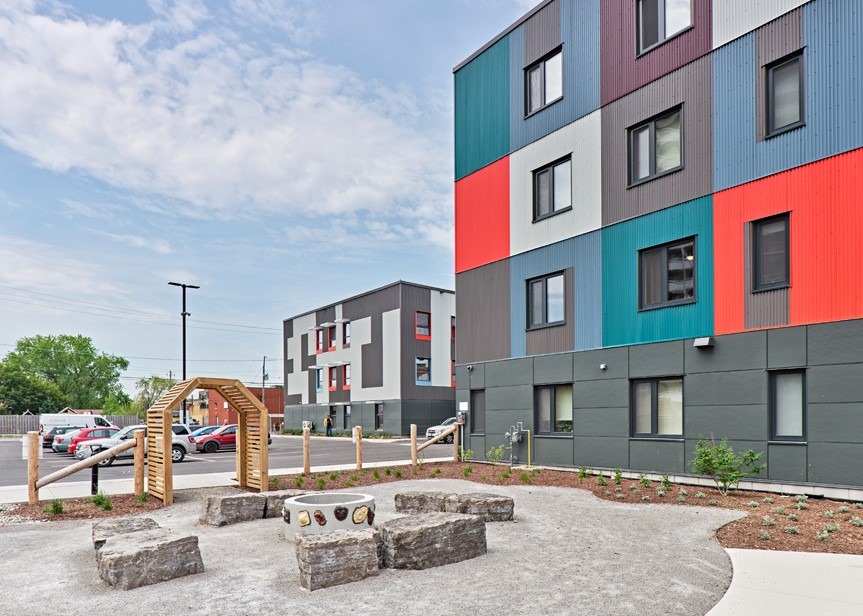 As we pursue hope and homes for all, we must also bring attention to the
overrepresentation of unhoused Indigenous people in our communities.
Métis author and academic Jesse Thistle defines Indigenous homelessness as
"the disconnection from things like spirituality, the family, land, to each other,
to cosmology, to Creator." He highlights the nuanced factors that lead to homelessness and precarious housing—trauma as a result of colonization, children displaced from their families, and the subsequent loss of identity and culture.
For Indwell, this road to inclusion and understanding has been one of learned
humility—this includes building partnerships based on mutual decision-making, acknowledging that Indigenous people know their communities and how best to offer everyone's strengths and resources to provide holistic support to tenants. "Through the process of collaborating with Indigenous-led organizations we've been understanding the importance of approaching relationships with humility, of emphasizing mutual decision making that respects the self-determination and knowledge of Indigenous partners and tenants," explains Amy Brouwer, Indwell's Hamilton Apartments Program Supervisor and supporter of Indigenous partnerships.
In 2017, when we applied for funding towards what is now Hamilton's McQuesten Lofts, we had a rough statistic in mind: approximately 20% of unhoused people in Canada's major cities are Indigenous. Through conversation with the Aboriginal Health Centre and the Hamilton Regional Indian Centre (HRIC), we ensured that 20% of the units at McQuesten Lofts would house and include support for
Indigenous tenants. Future projects, like The Oaks and "180 Ottawa St N" in
Hamilton, are also taking shape in consultation with Indigenous partners–Sacajawea Non-Profit Housing and the HRIC-both of which have formally agreed to provide ongoing support to tenants at both programs.
Ongoing efforts to respond to the Truth and Reconciliation Commission's Calls to Action include building Indigenous resource libraries for our programs and developing a cultural training program to equip staff in the areas of Indigenous awareness and cultural safety.