Introduce yourselves. What does your "typical" day look like?
Indwell has two intake coordinators, Shirleen and Nicole. We're in charge of processing housing Expression of Interest forms and maintaining housing waitlists. A typical day involves responding to application status inquiries, information requests, setting up intake meetings, and keeping up to date with what's happening in our programs.
Talk about wait times. What type of apartment/living arrangement is most requested?
Indwell respects a chronological order for those who express interest in housing. Each location has a separate waitlist, and wait times depend on movement within our programs and how many individuals are on our waitlist. All of our programs are highly requested!
What is an Expression of Interest? How many people have engaged this year?
Our Expression of Interest (EOI) is the form that applicants fill out when they are interested in housing with us. Our hope is that when applicants fill out this form, they'll answer the housing and support questions that helps us ensure they're matched to the program that will best meet their support needs. So far in 2021, we've received approximately 160 Expression of Interest forms*.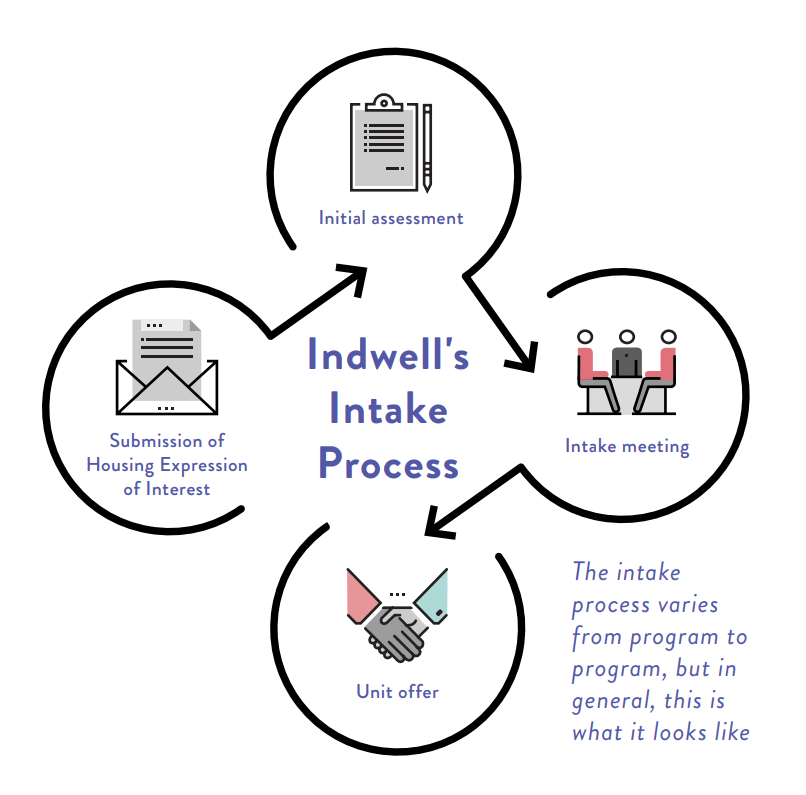 For the future Lakeshore Lofts program in Mississauga, you're working with an organization called SHIP. Briefly talk about partnerships with other organizations. Is this the new way of doing intake?
As we continue to expand into new cities, it's important to us as Intake Coordinators that we're not creating more waitlists for individuals to apply to.
Instead, we want to create a barrier free, "one-door" approach to apply for housing. Because of this, we've decided to work closely with pre-existing housing waitlists that exist within the cities we're part of. Our hope is that by doing so, individuals who are looking to apply for housing with Indwell will be able to do so through familiar housing waitlists that are already in place in their own cities.
What's the hardest part of your job? What do you find most rewarding?
One of the hardest things for us is not being able to meet every need. So many people call with anticipation after hearing about Indwell, and we're reminded—again and again—that there is still so much more to be done to confront homelessness and mental health. The most rewarding part of our job is meeting
someone who has just moved into their new home and seeing them already flourishing.
* Previously, Indwell was receiving close to five Expressions of Interest per day. However, we recently closed our Expression of Interest forms for London, Woodstock, and most of Hamilton and have been working with local agencies to improve wait list processes and see more people housed. To learn more about expressing interest in a particular program or region, visit indwell.ca/eoi and follow the prompts.