The pandemic has highlighted the growing homelessness and housing crises across Ontario. We are thankful to continue (and even begin) construction in several cities. And in August, we opened new homes for 48 people!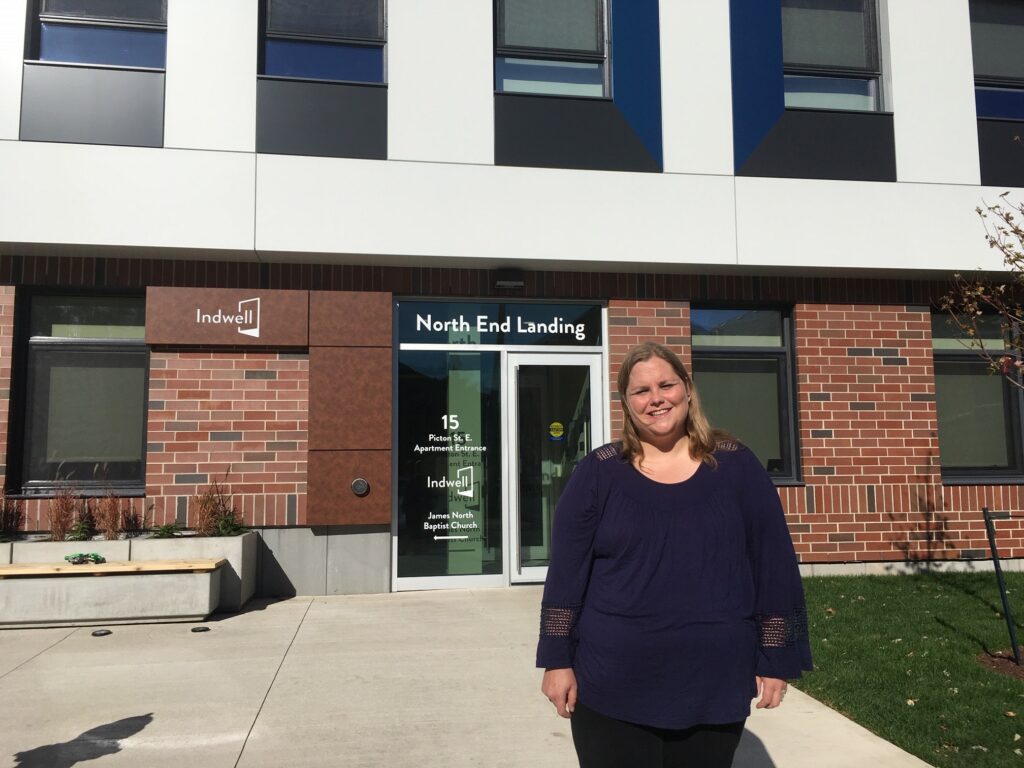 "A few months ago, we didn't quite know how we'd open a new building if the pandemic continued," says Hannah Bartha, housing support staff at Indwell's new North End Landing in Hamilton. "But we've found new rhythms and better understand how to stay safe. With tenants moving in one day at a time, with masking, physical distancing and sanitizing in place, we've started to build a thriving new community."
North End Landing is Indwell's first formal housing partnership with a church, James North Baptist Church (formerly Hughson Street Baptist Church). Years ago, they'd outgrown their historic building in Hamilton's rapidly changing North End. Committed to serving neighbours feeling the effects of gentrification, the church planned to build nearby. But they withdrew their building application when Indwell leaders suggested they add affordable housing to their plans. Federal and provincial funding for the housing, in addition to ongoing fundraising, signaled the go-ahead for the project. Indwell managed the building project and operates the housing.
I realized I needed more independence, my own oasis.
While most tenants moved from within the neighbourhood and elsewhere in Hamilton, some tenants, like Stacey, moved from other Indwell programs:
"I think of myself as a bird. When I came out of the hospital, I was like a baby bird, and I couldn't fly. I needed the nurturing, the security and the stability of living at Indwell's Wentworth Program. As I progressed with my university studies, and with starting my practicum, I realized I needed more independence, my own oasis. And a larger place where I can have my family over. The sense of community here is already strong. There's already programming here–like tea-time–which is so good. This place is absolutely wonderful."
All tenants benefit from the support that Hannah and other team members offer as, through relationships, they create community–a community that supports each other through life's joys and challenges. In addition to community building and the usual landlord functions, the team helps with problem solving and connecting to services in the broader community.
North End Landing Highlights
45 apartments (43 one-bedroom*, 2 two-bedroom)
1 full-time staff member
Highly energy efficient building
Amenities Include: community room,  quiet common space/library, small meeting room, secure bicycle storage, on-site laundry, an access to church programming
* 9 of these are barrier-free