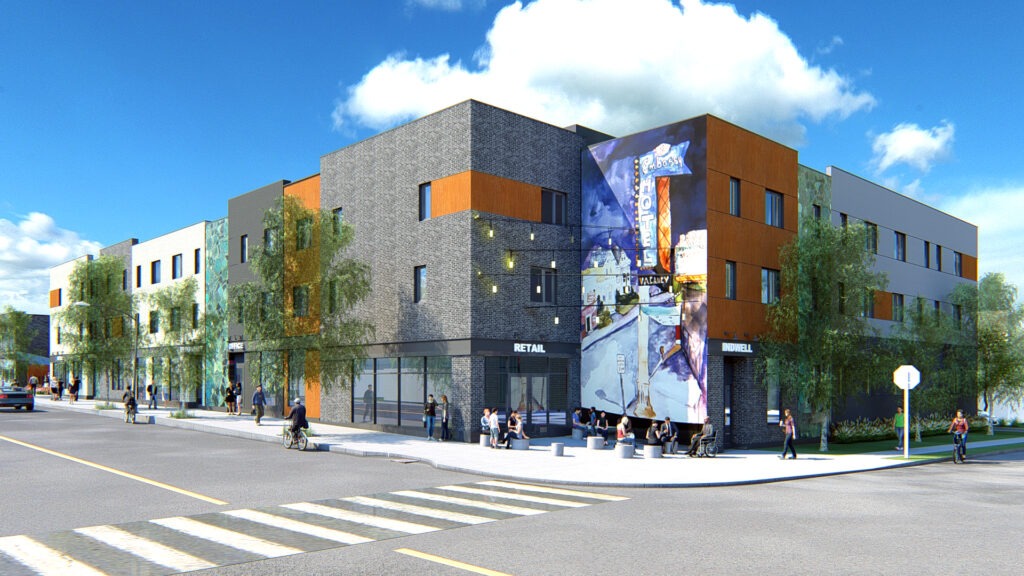 LONDON, ON, July 29, 2020 – Today, participants gathered to celebrate the groundbreaking of a new affordable housing community. Indwell, a Christian charity with a 45-year history of creating affordable and supported homes, is developing the 72-unit building at 744 Dundas Street in London's Old East Village.
Embassy Commons will have 67 one-bedroom apartments and 5 two-bedroom apartments, plus two retail units and a restaurant. Indwell's growth in London and Southwestern Ontario will also be supported from this location.
"Creating homes that people can afford and where they feel valued leads to transformation – of lives and communities," said Jeff Neven, Executive Director at Indwell. "We're happy to have reached this milestone with the help of our community partners, generous donors, and municipal leaders."
Indwell serves people who are seeking independence in a supportive and safe community. Many of its tenants have experienced obstacles to maintaining housing because of physical or financial barriers in our current housing market, mental health challenges, or other impacts of poverty. Indwell's professional staff walk alongside tenants to solve problems, develop healthy relationships, and connect to community resources.
Embassy Commons will be London's largest multi-residential/mixed-use building constructed to Passive House standards. This will result in deep energy efficiency and low greenhouse gas emissions, while being very quiet and comfortable for residents.
"We are excited to be building to Passive House standards because it highlights the capabilities of our team and trades. We expect to achieve impressive energy and comfort results with readily available made-in-Ontario products, and by paying attention to every detail along the way," said James VanGurp, president of Elgin-based general contractor Graceview Enterprises.
The Embassy Commons name recognizes the site's former use as the Embassy Hotel and its history as a cultural landmark, including as home to the Embassy Cultural House in the 1980's. A three-story image of Embassy at nite May 29/78, a watercolour painted by internationally recognized artist Jamelie Hassan, will be featured on the side of the building.
Two retail tenants have already committed to leases when the building opens in 2022. London Cycle Link, a non-profit organization that promotes cycling in London, will operate the Squeaky Wheel Bicycle Co-op from one space. The other retail space will open as a pharmacy. The restaurant operations are still being finalized.
"Our move to the Embassy Commons is more than getting a storefront in a nice location. It's the beginning of a long-term relationship with Indwell, an organization that has a deep understanding of bicycles as a powerful tool for building a better city and whose work is a key piece to fostering a resilient community," said Luis Patricio, board chair of the London Cycle Link.
"We are incredibly pleased to be working with Indwell on this amazing project. Next to safe, stable housing, healthcare is absolutely essential for individuals to survive and thrive. We are honored to help provide it for Indwell's clients and the wider community," said Edward Odumodu, pharmacy owner.
At the groundbreaking event, Hank Vander Laan, Indwell's Campaign Cabinet Chair, recognized the tremendous community support already received from individuals, foundations, businesses. Over $1.75 million has been raised toward the $7 million goal that will empower Indwell to build 200 affordable apartments in the next few years.
Embassy Commons is Indwell's second London program. Woodfield Gate, featuring 67 one-bedroom apartments, opened in July 2019 and is home to 69 Londoners.
About the Embassy Commons
67 one-bedroom apartments; 5 two-bedroom apartments.
2 retail spaces, a restaurant, and office space on ground floor.
Rents will be deeply affordable, targeting sustainability for people whose primary income source is the Ontario Disability Support Program (or similar).
Indwell is working closely with the City of London Homeless Prevention and other agencies to identify people who would benefit and are seeking to live independently in a supportive housing community.
Construction begins in August, with occupancy in 2022.
Funding for the project will come from community donations, foundation grants, and grants and loans from government sources.
The general contractor for the project is Graceview Enterprises.
About Indwell
Our Mission: Indwell is a Christian charity that creates affordable housing communities that support people seeking health, wellness and belonging.
Indwell is Ontario's largest developer of new affordable housing with supports. We support more than 600 tenants, with another 400 apartments in development throughout Ontario.
Indwell Welcomes Everyone
Indwell exists to provide hope and homes for all. Our supports and services are open to people from every creed, race, ethnicity, sex, ability, sexual orientation, and gender identity. Indwell engages with diverse communities: we actively identify and remove barriers that prevent people from accessing and participating in our services.